Description
Household system
Introduction: With world going through major revolution of energy sourcing, understanding consumer required backup time and complexity of integration in systems, Sacred Sun compromises series specially designed for residential, commercial, telecom and many similar applications which use DC-AC power. This series ranges from 300W-6KW. By implementing projects of respective series, Sacred Sun guarantees a mature product for customers.
Features:
● 300W-6KW AC solutions delivers constant power for household with less stable grid power supply.
● Battery built in or detached design allow minimum space occupoed.
● The most cost-effective hybrid solutions reduce substantially the bill to buy grid power.
● Roof mounted PV will supply shelters to keep good temperature in the room.
● Bigger capacity drives more applications, from LEDs, cookers, to AC and refrigerator.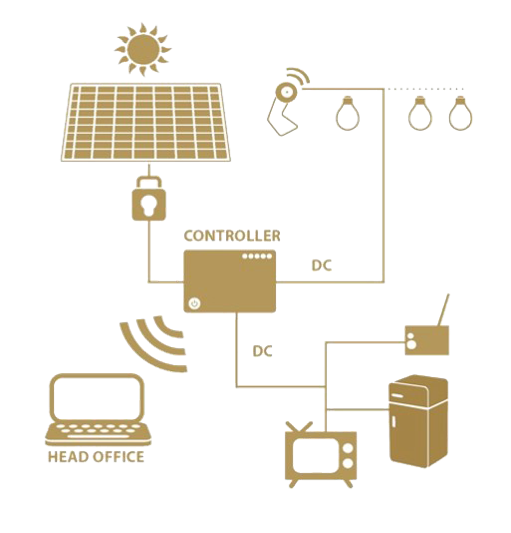 Off-grid new energy power plant
Introduction: The solution can be applied to the centralized power supply in remote areas without mains supply, adopt the renewable energy source wind and sunlight to generate power and battery is used for energy storage to achieve continuous power supply.
Features:
● The PV modules array adopts modular design, easily to increase capacity.
● Energy storage battery chooses the special battery developed by us aiming at the new energy application, the cycling performance is good under partial state of
charge, and operation environment temperature is wide.
● Serialized off-grid controllers, inverters, meet the customers' requirement for different applications.
● Aiming at the characteristics of off grid power plant, our company independently developed monitoring system applied in off-grid power plant.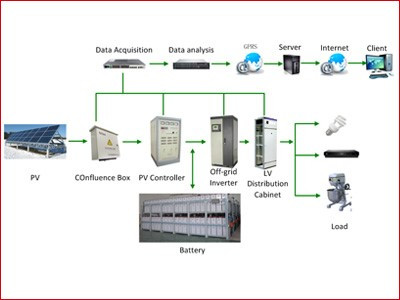 Micro-grid new energy power station
Introduction: This solution can be applied to distributed generation, off-grid generation, island isolated grid and other application fields, to achieve large-scale application of Wind, Solar and other renewable energy sources and supplying power with high reliability and performance
Features:
● Adopting micro-grid structure to achieve large-scale system building of Wind-Solar-Energy storage hybrid power plant, the system can be connected to the large grid or build grid network independently and run alone.
● Wind-Solar-Energy storage hybrid power plant reduces the dependence on fossil fuel, decrease carbon emission efficiently; it is beneficial for the environment protection and promotes harmony between man and nature.
● Adopting the lithium ion battery, lead-acid battery, FCP lead-carbon battery etc. different types of batteries hybrid energy storage structure, on the basis of controlling the system cost, give full play to the technological characteristics of different types of energy storage batteries
● Adopting the innovative technology to achieve Wind-Solar-Energy storage hybrid power plant builds the grid independently, the DG is not used as the voltage source (just used as backup power source) to reduce the energy consumption.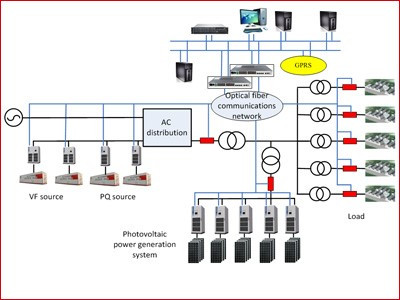 Container type modular storage system
Introduction: Energy storage power station has been widely used in peak load and power regulation, cooperation with the thermal power plant output, as well as to meet the requirements of emergency power supply within a small range. Container type modular storage system as a form of energy storage power station, high efficiency space utility, convenient installation and transportation, station completion cycle is short, strong environment adaptability, high intelligence and many other advantages, has been widely applied in various fields of electric power, industrial, commercial and others.
Features:
● High modular degree, simple structure, convenient for transportation, installation and maintenance;
● According to the properties of the selected batteries, choose the specialized Intelligent BMS;
● The system is equipped with local and remote monitor system, implementing real-time online control;
● Bilingual contrast
● Adopt air cooling mode, optimize the air distribution, implement intelligent control, save temperature control energy consumption, temperature field is uniform ;
● With complete safety protection measures to ensure operation personnel and energy storage system safe and work reliably.
● As per the customer requirement and load character provide the custom design solution,
● Base on the system requirement, adopt the specialized energy storage battery Lead acid, Gel, Lead carbon or lithium ion battery, configure energy storage units flexibly;